NIM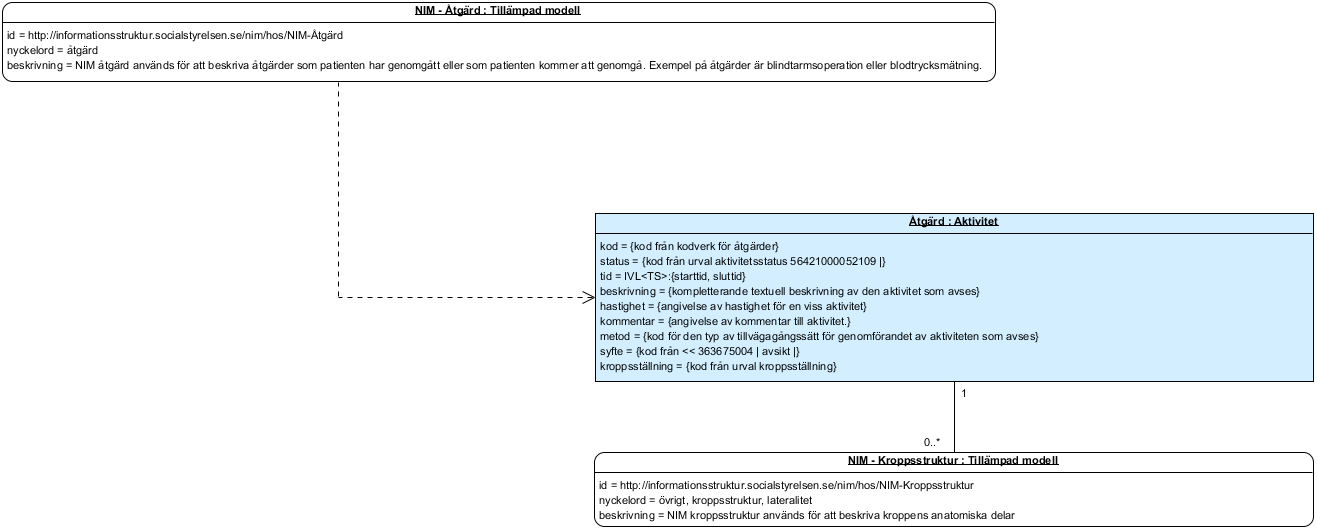 ConceptMap
Translation of value sets between SNOMED and FHIR is done by Concept map NIMProcedureEventStatus
Discussion
Kroppsstruktur
The decision that has to be made is if to use Procedure.bodySite or to model and refer to a BodyStructure profile.
The procedure resource allows for both. In the comment of Procedure.bodySite we can read: If the use case requires attributes from the BodySite resource (e.g. to identify and track separately) then use the standard extension procedure-targetbodystructure.
The question here becomes; is there a reason for a specific model. Looking at NIM-Kroppstruktur we can see a very limited set of laterality definitions as well as a topological definition that should be covered by the body structure code. If there is a real need for this model, it can be done, otherwise using Procedure.bodySite is a firm recommendation as it better conforms to the standard.
Metod
No value set is defined in the NIM for metod.
Hastighet
Note that while hastighet has the type ANY, the profile restricts this to Duration.
Mappings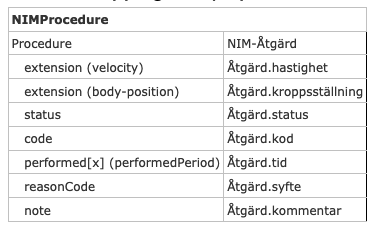 Id
Path
Details
Requirements
dom-2
Procedure
If the resource is contained in another resource, it SHALL NOT contain nested Resources
: contained.contained.empty()
dom-3
Procedure
If the resource is contained in another resource, it SHALL be referred to from elsewhere in the resource or SHALL refer to the containing resource
: contained.where((('#'+id in (%resource.descendants().reference | %resource.descendants().as(canonical) | %resource.descendants().as(uri) | %resource.descendants().as(url))) or descendants().where(reference = '#').exists() or descendants().where(as(canonical) = '#').exists() or descendants().where(as(canonical) = '#').exists()).not()).trace('unmatched', id).empty()
dom-4
Procedure
If a resource is contained in another resource, it SHALL NOT have a meta.versionId or a meta.lastUpdated
: contained.meta.versionId.empty() and contained.meta.lastUpdated.empty()
dom-5
Procedure
If a resource is contained in another resource, it SHALL NOT have a security label
: contained.meta.security.empty()
dom-6
Procedure
A resource should have narrative for robust management
: text.`div`.exists()
ele-1
Procedure.meta
All FHIR elements must have a @value or children
: hasValue() or (children().count() > id.count())
ele-1
Procedure.implicitRules
All FHIR elements must have a @value or children
: hasValue() or (children().count() > id.count())
ele-1
Procedure.language
All FHIR elements must have a @value or children
: hasValue() or (children().count() > id.count())
ele-1
Procedure.text
All FHIR elements must have a @value or children
: hasValue() or (children().count() > id.count())
ele-1
Procedure.extension
All FHIR elements must have a @value or children
: hasValue() or (children().count() > id.count())
ext-1
Procedure.extension
Must have either extensions or value[x], not both
: extension.exists() != value.exists()
ele-1
Procedure.extension:velocity
All FHIR elements must have a @value or children
: hasValue() or (children().count() > id.count())
ext-1
Procedure.extension:velocity
Must have either extensions or value[x], not both
: extension.exists() != value.exists()
ele-1
Procedure.extension:body-position
All FHIR elements must have a @value or children
: hasValue() or (children().count() > id.count())
ext-1
Procedure.extension:body-position
Must have either extensions or value[x], not both
: extension.exists() != value.exists()
ele-1
Procedure.modifierExtension
All FHIR elements must have a @value or children
: hasValue() or (children().count() > id.count())
ext-1
Procedure.modifierExtension
Must have either extensions or value[x], not both
: extension.exists() != value.exists()
ele-1
Procedure.identifier
All FHIR elements must have a @value or children
: hasValue() or (children().count() > id.count())
ele-1
Procedure.instantiatesCanonical
All FHIR elements must have a @value or children
: hasValue() or (children().count() > id.count())
ele-1
Procedure.instantiatesUri
All FHIR elements must have a @value or children
: hasValue() or (children().count() > id.count())
ele-1
Procedure.basedOn
All FHIR elements must have a @value or children
: hasValue() or (children().count() > id.count())
ele-1
Procedure.partOf
All FHIR elements must have a @value or children
: hasValue() or (children().count() > id.count())
ele-1
Procedure.status
All FHIR elements must have a @value or children
: hasValue() or (children().count() > id.count())
ele-1
Procedure.statusReason
All FHIR elements must have a @value or children
: hasValue() or (children().count() > id.count())
ele-1
Procedure.category
All FHIR elements must have a @value or children
: hasValue() or (children().count() > id.count())
ele-1
Procedure.code
All FHIR elements must have a @value or children
: hasValue() or (children().count() > id.count())
ele-1
Procedure.subject
All FHIR elements must have a @value or children
: hasValue() or (children().count() > id.count())
ele-1
Procedure.encounter
All FHIR elements must have a @value or children
: hasValue() or (children().count() > id.count())
ele-1
Procedure.performed[x]
All FHIR elements must have a @value or children
: hasValue() or (children().count() > id.count())
ele-1
Procedure.performed[x]:performedPeriod
All FHIR elements must have a @value or children
: hasValue() or (children().count() > id.count())
ele-1
Procedure.recorder
All FHIR elements must have a @value or children
: hasValue() or (children().count() > id.count())
ele-1
Procedure.asserter
All FHIR elements must have a @value or children
: hasValue() or (children().count() > id.count())
ele-1
Procedure.performer
All FHIR elements must have a @value or children
: hasValue() or (children().count() > id.count())
ele-1
Procedure.performer.extension
All FHIR elements must have a @value or children
: hasValue() or (children().count() > id.count())
ext-1
Procedure.performer.extension
Must have either extensions or value[x], not both
: extension.exists() != value.exists()
ele-1
Procedure.performer.modifierExtension
All FHIR elements must have a @value or children
: hasValue() or (children().count() > id.count())
ext-1
Procedure.performer.modifierExtension
Must have either extensions or value[x], not both
: extension.exists() != value.exists()
ele-1
Procedure.performer.function
All FHIR elements must have a @value or children
: hasValue() or (children().count() > id.count())
ele-1
Procedure.performer.actor
All FHIR elements must have a @value or children
: hasValue() or (children().count() > id.count())
ele-1
Procedure.performer.onBehalfOf
All FHIR elements must have a @value or children
: hasValue() or (children().count() > id.count())
ele-1
Procedure.location
All FHIR elements must have a @value or children
: hasValue() or (children().count() > id.count())
ele-1
Procedure.reasonCode
All FHIR elements must have a @value or children
: hasValue() or (children().count() > id.count())
ele-1
Procedure.reasonReference
All FHIR elements must have a @value or children
: hasValue() or (children().count() > id.count())
ele-1
Procedure.bodySite
All FHIR elements must have a @value or children
: hasValue() or (children().count() > id.count())
ele-1
Procedure.outcome
All FHIR elements must have a @value or children
: hasValue() or (children().count() > id.count())
ele-1
Procedure.report
All FHIR elements must have a @value or children
: hasValue() or (children().count() > id.count())
ele-1
Procedure.complication
All FHIR elements must have a @value or children
: hasValue() or (children().count() > id.count())
ele-1
Procedure.complicationDetail
All FHIR elements must have a @value or children
: hasValue() or (children().count() > id.count())
ele-1
Procedure.followUp
All FHIR elements must have a @value or children
: hasValue() or (children().count() > id.count())
ele-1
Procedure.note
All FHIR elements must have a @value or children
: hasValue() or (children().count() > id.count())
ele-1
Procedure.focalDevice
All FHIR elements must have a @value or children
: hasValue() or (children().count() > id.count())
ele-1
Procedure.focalDevice.extension
All FHIR elements must have a @value or children
: hasValue() or (children().count() > id.count())
ext-1
Procedure.focalDevice.extension
Must have either extensions or value[x], not both
: extension.exists() != value.exists()
ele-1
Procedure.focalDevice.modifierExtension
All FHIR elements must have a @value or children
: hasValue() or (children().count() > id.count())
ext-1
Procedure.focalDevice.modifierExtension
Must have either extensions or value[x], not both
: extension.exists() != value.exists()
ele-1
Procedure.focalDevice.action
All FHIR elements must have a @value or children
: hasValue() or (children().count() > id.count())
ele-1
Procedure.focalDevice.manipulated
All FHIR elements must have a @value or children
: hasValue() or (children().count() > id.count())
ele-1
Procedure.usedReference
All FHIR elements must have a @value or children
: hasValue() or (children().count() > id.count())
ele-1
Procedure.usedCode
All FHIR elements must have a @value or children
: hasValue() or (children().count() > id.count())